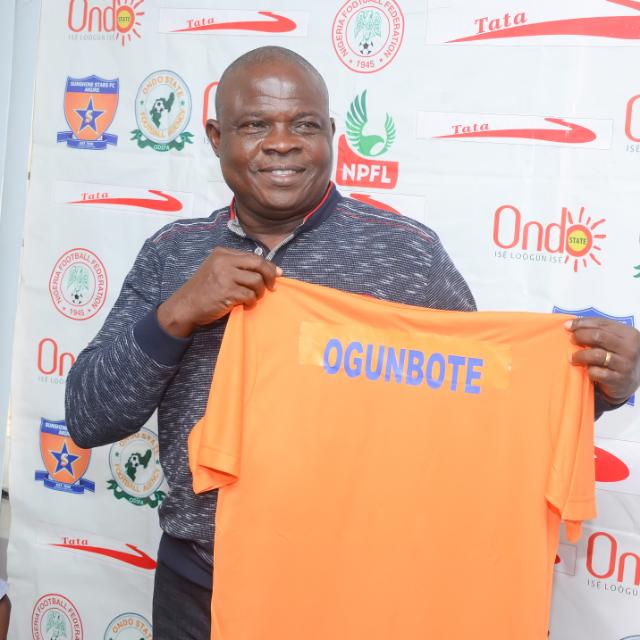 Sunshine stars football club has unveil its new coach ahead of the 2020/2021 Nigeria professional football league NPFL season.
He's Coach Gbenga Ogungbote.
Coach Ogungbote who is making his second return to Akure was unvail today at the Ondo state football agency game village in Akure.
Chairman Ondo state football agency Alhaji Tajudeen Akinyemi said the choice of coach Ogungbote was taken unanimously by the management team based on his previous records with the club and in the league.
Alhaji Akinyemi further stated that the aim of the new coach is to redeem the image of the team,provide quality technical input to the team and take the team to the Continent.
In his acceptance speach,Coach Gbenga Ogungbote appeled for total support from all stakeholders to return the team to the Continent.
He promised to bring in good philosophy,ta tactics,discipline to sunshine stars and encourage home based,young talented footballers to the senior team.
Earlier,chairman house committee on sports Dr Biodun Faleye promised to said the house of assembly will provide all form of support to thinker the activities of team to so well in the coming league.
On his part, a former handler of Sunshibe stars Coach Henry Abiodun charged the fans,supporters club not to put pressure on the coach but to support him in all ways to succeed.
Coach Gbenga Ogungbote has handled several teams in the country's domestic league which include Rangers fc of Enugu,Enyimba of Aba,Giwa Fc of Jos and Gateways football club of Abeokuta.
Coach Ogungbote signed one year contract with the Akure based team.